February 8, 2021 - February 22, 2021 1:00 pm
ONLINE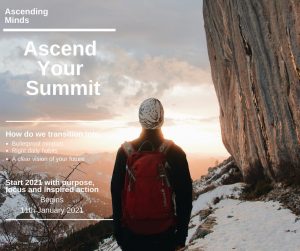 As we say goodbye to 2020, I'm sure you, like many other people are looking this coming year more than ever to make 2021 your biggest, best and most successful year yet.
Whether 2020 was full of grind, growth or both, I'm certain we can all agree that it was a year that was the perfect catalyst to view our lives, relationships, life direction and daily habits through a different lens.
But what now???
How do we transition this new perspective into;
a bulletproof mindset,
the right daily habits, and,
a super clear vision of your future
Starting on the 8th of February, Geoff and Dan will be running the same program that they run each February with their high end 1 on 1 coaching clients for you online at a fraction of the cost.
Laying the foundation for the year ahead isn't about making off the cuff resolutions on NYE, and furthermore, it takes more than writing a few goals down on a whiteboard. It is however, about going deep into;
what has been holding you back,
assessing your past year,
understanding where you are currently at
ensuring your values, beliefs and goals are fully aligned
how you can achieve flow state at will
increase focus
stay inspired
gaining clarity around your purpose and path, and,
integrating the right tools and habits in a sustainable way as part of a holistic strategy
Join us online as we go deep on 6 LIVE calls over 3 weeks to lay the perfect foundation with our ASCEND YOUR SUMMIT PROGRAM for 2021. We take you through all the key elements you need to reach new heights and launch into 2021 with momentum, focus and purpose.
Assess your starting point
Refine what you need
Plan your ascent and set your goals
Pack your kit with the right tools, practices and habits
Learn strategies to deal with rough weather, trying times and when you lose vision throughout the year
Learn how to use breathwork, movement and meditation to create more energy and focus in your day
Create your own holistic strategy and flow plan for the year
It's time to capitalise on the most transformative year we've ever had and gain, implement and integrate the right tools to get you where you truly desire and take yourself to new heights and climb to your full potential.
Start 2021 with clarity, momentum and purpose underpinned by inspired action and join us for only $197.00 as you ascend to your peak.
| Ticket Type | Price | Cart |
| --- | --- | --- |
| Ascend your Summit | $197 | |